May 14, 2015
By Nicholas J.C. Pistor
St. Louis Post-Dispatch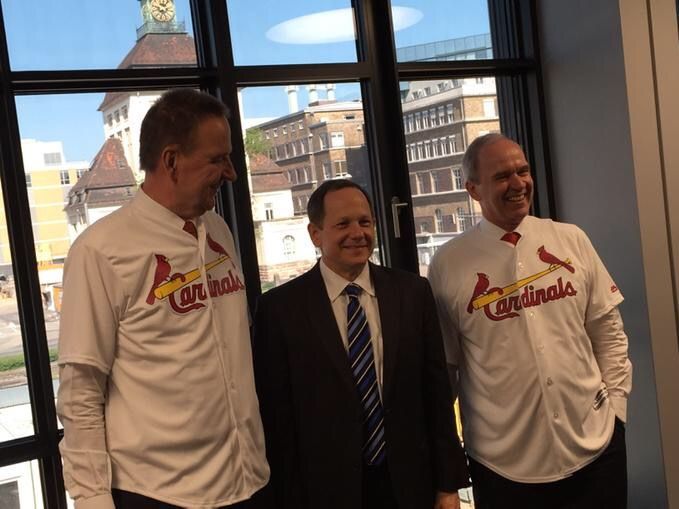 ST. LOUIS • Mayor Francis Slay is in Europe this week on a trade mission designed to improve St. Louis' image abroad.
Slay said St. Louis' geography, deep in the heartland, prevents it from gaining the notoriety and attention like places on the coasts. He said his mission is meant to keep St. Louis on the minds of business leaders in Europe, especially with those who already have a foothold in the region.
Slay was joined by St. Louis County Councilman Pat Dolan, St. Louis Regional Chamber President Joe Reagan, World Trade Center St. Louis' Tim Nowak, former St. Louis Democratic Chairman Brian Wahby, and others.
The group was a guest of U.S. Ambassador to Ireland Kevin O'Malley, a St. Louis native and former lawyer at Greensfelder, Hemker & Gale, in downtown St. Louis.
"When he became ambassador he told me 'I want you to come to Ireland and I want to use this to help St. Louis,'" Slay said in a telephone interview from London.
The city has been showcasing its Cortex Innovation Community, Arch Grants program, and the regional BioSTL focused on plant sciences.
After Ireland, Slay went to Darmstadt, Germany, and met with officials from the pharmaceutical and life sciences giant Merck KGaA.
Slay posted a picture of two company officials donning St. Louis Cardinals jerseys.
The company recently bought St. Louis based Sigma-Aldrich.
Slay also visited offices of public relations firm FleishmanHillard and law firm Bryan Cave. The firms are based in St. Louis but have a significant presence abroad.