May 1, 2015
By Wayne Pratt
St. Louis Public Radio
A new partnership will focus on training and business development in the St. Louis region's immigrant entrepreneurship community.
Mayor Francis Slay and U.S. Small Business Administration Administrator Maria Contreras-Sweet have formed a strategic alliance to boost area businesses launched by people born in other countries.
The partnership, which is essentially a resource and information sharing agreement between the city and SBA, was signed during Contreras-Sweet's visit to St. Louis on Friday.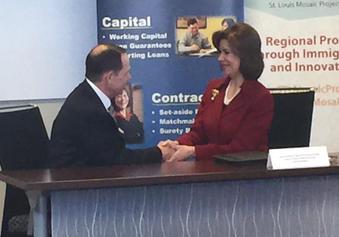 "It's really important for us to see across the country more examples like this. So this is going to be a shining example for others to follow," she told St. Louis Public Radio shortly after holding a roundtable discussion with immigrant business leaders at the World Trade Center-St. Louis.
She left the session with the thought that SBA needs to do a better job at communicating alternative finance options for small businesses.
"I'll be taking back about how we make these programs more well-known and also how do we manage them so that you still want the free marketplace to take hold, but you want them to be rational rates. You don't want to have any abusive practices out there."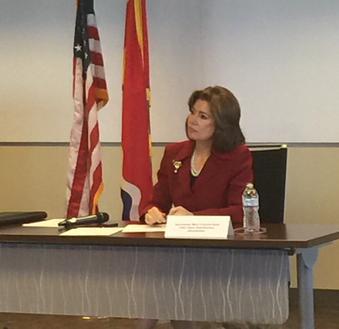 For his part, Mayor Slay regards the strategic alliance as another asset as the city deals with an increasingly-competitive global economy.
"Historically, a lot of the trade and a lot of the international business was done around the rings of the United States on the various coasts. But we know that we are strategically located in the middle of the United States. We are close to a lot of markets."
Immigrant entrepreneurs in the region also have a new outlet to share their experiences.
The St. Louis Mosaic Project has announced an Immigrant Entrepreneurship Advisory Board.
It's part of the organization's overall approach to equip entrepreneurs "with the resources to grow or start their own businesses," Executive Director Betsy Cohen said in a release.
Here are the members of the Mosaic Project's Immigrant Entrepreneurship Advisory Board:
Diego Abente – International Institute
Salim Awad – McQueen Awad LLC
Ola Ayeni – Claim Academy, eateria
Ed Bryant – St. Louis Minority Business Council
Eddie Davis – Center for Acceleration of African American Business
Susanne Evens – AAA Translation
Roberto Garcia – LISTO
Carmen Jacob – NextGen Information Services
Suchin and Shayn Prapaisilp – Global Foods, United Provisions
Raul Sanchez – Appcropolis
Geoffrey Soyiantet – Vitendo4Africa
Mark Sutherland – Elasticity
Sorin Vaduva – Serial Entrepreneur
Dr. Ibrahim Vajzovic – Real Estate, Professor
Francis Yueh – St. Louis Chinese American News
Michael Zambrana – Pangea Group