September 24, 2015
By Kelly Moffitt
St. Louis Public Radio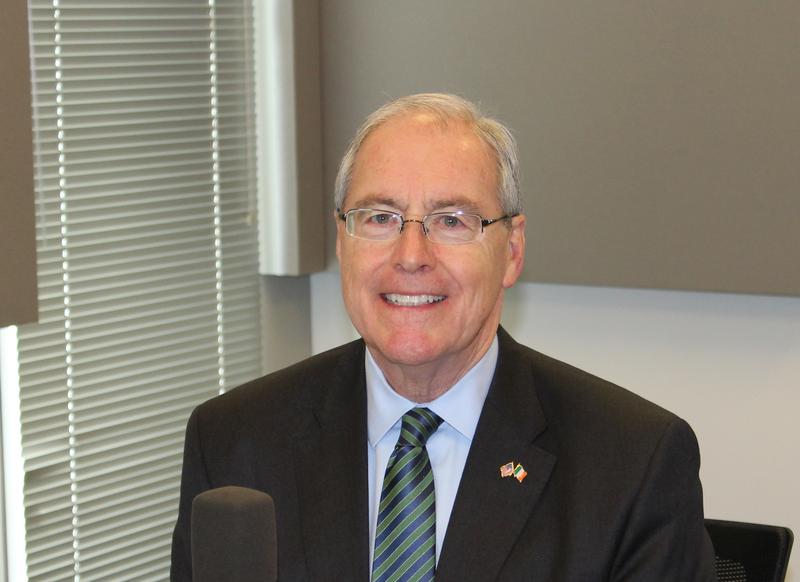 If you've been to the St. Patrick's Day Parade in Dogtown, or even stepped foot in John D. McGurk's in Soulard, you probably understand how a town with such Irish heritage as St. Louis could shape a future U.S. Ambassador to Ireland. Kevin O'Malley, the native St. Louisan who is now serving in that role, paid a diplomatic visit to the "St. Louis on the Air" studio on Thursday to talk with host Don Marsh about what he does.
"The historic, cultural and familial ties between Ireland and the U.S. cannot be overestimated," O'Malley said. "In Ireland, they talk about the United States sometimes as 'the next parish over.' They'll say they have a lot more in common with Boston than Berlin."
That may be because of the estimated 40 million Americans who claim Irish ancestry. That's something O'Malley knows a little bit about. His grandparents were born in Westport, on the west coast of Ireland, and raised seven children there before moving to Chicago about 100 years ago to have eight more. The first of those eight was O'Malley's father.
The ambassador who, prior to filling that role, was a partner at Greensfelder, Hemker & Gale, P.C. in St. Louis and a Special Attorney of the Organized Crime Section of the United States Department of Justice in Washington D.C. , is in St. Louis to receive the "2015 Global Ambassador Award" from the World Trade Center of St. Louis during the center's "Growing Global" event on Friday.
He said he makes up part of the 30 percent of ambassadors who are selected for the role for being trusted by the President of the United States. O'Malley had been active in President Obama's campaign in St. Louis, which is where he met the president initially.
O'Malley said that growing up in St. Louis prepared him for the job because "Ireland is very much like St. Louis."
"Dublin is a city that is paced much like St. Louis," O'Malley said. "It has a speed of it that I'm very comfortable with because I grew up with that tempo. It is very family-oriented. So many decisions made in Ireland by the government and NGOS have to do with families. It really reminds me of St. Louis in that regard."
O'Malley said he would like to see more business and trade connections between St. Louis and Ireland, the fastest growing economy in the EU. Last year, the United States did over $40 billion in trade with the country and more than $400 billion in investments, said O'Malley.
"St. Louis has not participated in that trade to the degree that I would like to see it participate," he continued. "There are a number of opportunities available for St. Louisans to do business in Ireland and the Irish to do business in St. Louis and it would be great to see that kind of relationship fostered."
Listen on to find out more about O'Malley St. Louis Irish upbringing, how he spends his days as an ambassador, and what he is doing to promote such trade exchanges.