September 4, 2014
By Joe Holleman
St. Louis Post-Dispatch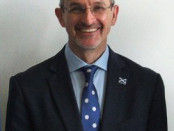 Next week, Scotland's senior diplomat in the U.S. will visit STL, beginning Sept. 11.
Donnie Jack, officially the Scottish Affairs Counsellor to the Americas, will go to a Cardinals' ballgame, attend the World Trade Center St. Louis' annual meeting and speak publicly at 5 p.m. Sept. 12 at St. Louis University's Boeing Institute of International Business.
"I am really looking forward to my first trip to St Louis and the opportunities it will provide to promote Scotland as an ideal business location," Jack said in a statement.